Single Row Touch Ball Bearing
发布时间:2015-07-13 浏览量:1507



 

Single Row Touch Ball Bearing mainly applied on the occasion of same time bears both diameter direction and
axial direction, sometimes also bears only direction load, the running speed is very high!
Material parts of bearing ring should select from high quality and refine bearing steelGCr 15 and other brand
bearing steel, steel ball select GCr15 or ceramics ball.
According to the diffrent touch angle can be divided into 3 types: 7000AC(15'), 7000AC(25') and 7000B(40'), 
We can produce different angle touch bearing.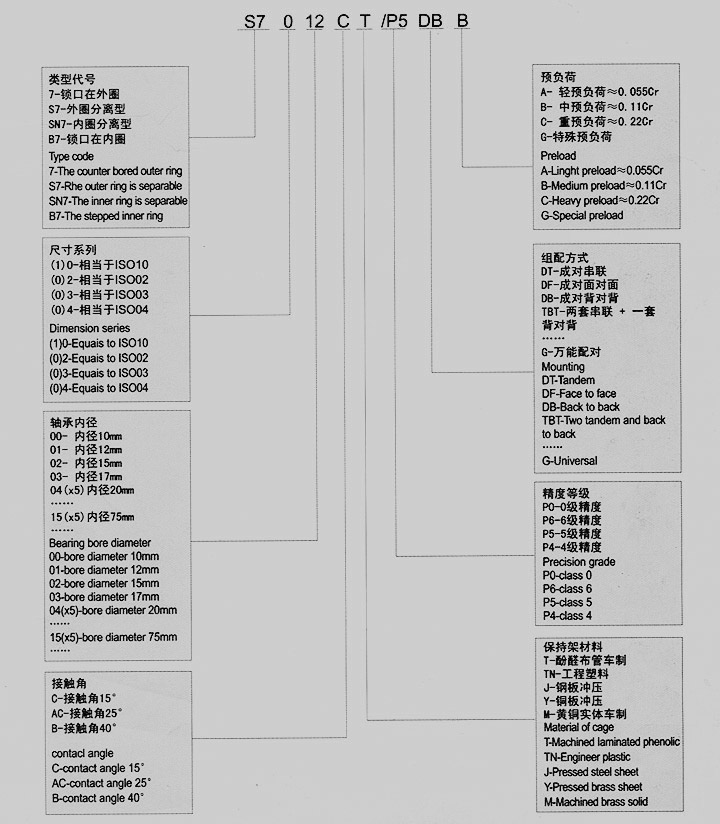 根据不同的结构,单列角接触球轴承的保持架有如下形式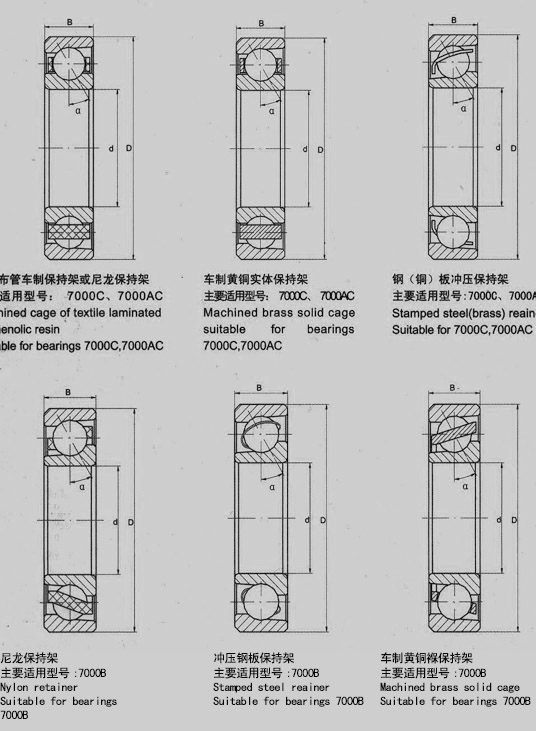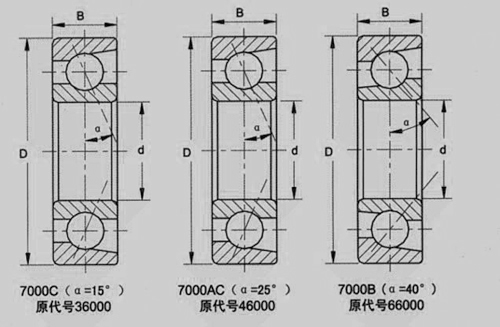 (mm)
Principal Dimensions

Designation
(KN)
Basic Load ratings
(rpm)
Limited Speed
(kg)
Weight
≈
d
D
B

Dynamic

Static

Grease

Oil
10
26
8
7000C
4.9
2.1
24000
32000
0.019
26
8
7000AC
3.6
2.1
24000
32000
0.019
30
9
7200C
5.8
2.9
22000
28000
0.032
30
9
7200AC
5.5
2.8
22000
28000
0.032
30
9
7200B
5.3
2.7
19000
27000
0.030
35
11
7300C
9.8
4.6
18000
26000
0.053
35
11
7300AC
9.5
4.4
18000
26000
0.053
12
24
6
7901C
3.3
1.8
28000
36000
0.011
24
6
7901AC
3.2
1.7
28000
36000
0.011
28
8
7001C
5.4
2.6
22000
28000
0.021
28
8
7001AC
5.1
2.4
22000
28000
0.021
32
10
7201C
7.9
3.8
20000
25000
0.037
32
10
7201AC
7.6
3.6
20000
25000
0.037
32
10
7201B
6.9
3.2
18000
24000
0.036
37
12
7301C
11.8
5.6
17000
24000
0.060
37
12
7301AC
11.5
5.4
17000
24000
0.060
37
12
7301B
10.5
4.9
16000
22000
0.060
15
28
7
7902C
4.7
2.6
24000
32000
0.015
28
7
7902AC
4.5
2.5
24000
32000
0.015
32
9
7002C
6.2
3.3
19000
25000
0.030
32
9
7002AC
5.9
3.2
19000
25000
0.030
35
11
7202C
9.2
4.9
17000
22000
0.045
35
11
7202AC
8.9
4.8
17000
22000
0.045
35
11
7202B
7.9
4.2
16000
22000
0.045
42
13
7302C
13.2
6.7
15000
21000
0.084
42
13
7302AC
12.5
6.2
15000
21000
0.084
42
13
7302B
12.4
6.5
14000
19000
0.080
17
30
7
7903C
5.0
2.8
22000
30000
0.017
30
7
7903AC
4.8
2.7
22000
30000
0.017
35
10
7003C
6.6
3.6
16000
22000
0.040
35
10
7003AC
6.3
3.6
16000
22000
0.040
40
12
7203C
10.8
5.8
15000
20000
0.062
40
12
7203AC
10.4
5.6
15000
20000
0.062
40
12
7203B
9.9
5.5
14000
19000
0.065
(mm)
Principal Dimensions

Designation
(KN)
Basic Load ratings
(rpm)
Limited Speed
(kg)
Weight

d
D
B

Dynamic

Static

Grease

Oil
17
47
14
7303C
15.7
8.2
13000
19000
0.065
47
14
7303AC
15.0
7.7
13000
19000
0.065
47
14
7303B
14.1
8.1
13000
17000
0.065
20
37
9
7904C
6.8
4.2
20000
28000
0.035
37
9
7904AC
6.4
4.0
20000
28000
0.035
42
12
7004C
10.4
6.0
14000
19000
0.064
42
12
7004AC
10.0
5.7
14000
19000
0.064
47
14
7204C
14.5
8.1
13000
18000
0.100
47
14
7204AC
14.0
7.8
13000
18000
0.100
47
14
7204B
13.4
7.6
12000
16000
0.110
52
15
7304C
18.4
9.8
12000
17000
0.150
52
15
7304AC
17.9
9.6
12000
17000
0.150
52
15
7304B
17.3
9.6
11000
15000
0.140
25
42
9
7905C
7.8
5.4
18000
26000
0.042
42
9
7905AC
7.5
5.2
18000
26000
0.042
47
12
7005C
11.6
7.4
12000
17000
0.074
47
12
7005AC
11.1
7.0
12000
17000
0.074
52
15
7205C
16.5
10.0
11000
16000
0.120
52
15
7205AC
15.8
9.7
11000
16000
0120
52
15
7205B
14.8
9.3
10000
14000
0.130
62
17
7305C
27.8
15.9
9500
14000
0.230
62
17
7305AC
27.0
15.6
9500
14000
0.230
62
17
7305B
24.3
14.1
9000
13000
0.230
30
47
9
7906C
8.2
6.2
16000
24000
0.048
47
9
7906AC
7.9
6.0
16000
24000
0.048
55
13
7006C
15.1
10.2
9500
14000
0.110
55
13
7006AC
14.4
9.8
9500
14000
0.110
62
16
7206C
23.0
14.7
9000
13000
0.190
62
16
7206AC
22.1
13.5
9000
13000
0.190
62
16
7206B
20.5
13.5
8500
12000
0.200
72
19
7306C
33.2
21.2
8500
12000
0.350
72
19
7306AC
32.8
20.4
8500
12000
0.350
72
19
7306B
29.3
18.1
8000
11000
0.340
90
23
7406C
57.5
33.8
6500
8500
0.960
90
23
7406AC
55.6
32.7
6500
8500
0.960
90
23
7406B
51.4
30.1
6000
8000
0.900
(mm)
Principal Dimensions

Designation
(KN)
Basic Load ratings
(rpm)
Limited Speed
(kg)
Weight
d
D
B

Dynamic

Static

Grease

Oil
35
55
10
7907C
12.0
9.1
14000
22000
0.075
55
10
7907AC
11.7
8.8
14000
22000
0.075
62
14
7007C
18.2
12.7
8500
12000
0.150
62
14
7007AC
17.3
12.1
8500
12000
0.150
72
17
7207C
30.3
20.0
8000
11000
0.280
72
17
7207AC
29.2
18.0
8000
11000
0.280
72
17
7207B
28.3
14.8
7500
10000
0.280
80
21
7307C
40.3
25.8
7500
10000
0.470
80
21
7307AC
38.2
24.9
7500
10000
0.470
80
21
7307B
38.3
24.4
7000
9500
0.450
100
25
7407C
66.8
41.2
5500
8000
1.140
100
25
7407AC
66.4
41.9
5500
8000
1.140
100
25
7407B
60.2
37.9
5000
7500
1.100
40
62
12
7908C
14.5
10.6
12000
20000
0.011
62
12
7908AC
14.1
10.1
12000
20000
0.011
68
15
7008C
19.7
14.9
8000
11000
0.180
68
15
7008AC
18.7
14.1
8000
11000
0.180
80
18
7208C
38.4
26.3
7500
10000
0.370
80
18
7208AC
36.8
25.4
7500
10000
0.370
80
18
7208B
34.5
23.8
6700
9000
0.420
90
23
7308C
49.3
32.3
6700
9000
0.660
90
23
7308AC
47.0
31.1
6700
9000
0.660
90
23
7308B
46.5
29.5
6300
8500
0.630
110
27
7408C
80.2
53.3
5200
7000
1.400
110
27
7408AC
73.7
42.1
5200
7000
1.400
110
27
7408B
70.1
49.1
5000
6500
1.350
45
68
12
7909C
16.0
12.6
10000
18000
0.013
68
12
7909AC
15.4
12.2
10000
18000
0.013
75
16
7009C
25.9
20.2
7500
10000
0.230
75
16
7009AC
24.7
19.1
7500
10000
0.230
85
19
7209C
40.4
29.3
6700
9000
0.410
85
19
7209AC
38.6
28.1
6700
9000
0.410
85
19
7209B
34.0
24.6
6300
8500
0.420
100
25
7309C
63.1
42.9
6000
8000
0.860
100
25
7309AC
61.6
41.2
6000
8000
0.860
(mm)
Principal Dimensions
Designation
(KN)
Basic Load ratings
(rpm)
Limited Speed
(kg)
Weight

d
D
B

Dynamic

Static

Grease

Oil
100
25
7309B
59.6
39.6
5600
7500
0.850
120
29
7409C
93.1
60.8
5000
6500
1.800
120
29
7409AC
84.5
55.1
5000
6500
1.800
120
29
7409B
80.7
44.1
4500
6000
1.750
50
72
12
7910C
16.5
15.0
8000
16000
0.014
72
12
7910C
16.1
14.8
8000
16000
0.014
80
16
7010C
26.6
21.8
6700
9000
0.250
80
16
7010AC
25.3
20.5
6700
9000
0.250
90
20
7210C
42.8
31.3
6300
8500
0.460
90
20
7210AC
40.8
30.1
6300
8500
0.460
90
20
7210B
40.4
25.6
5600
8000
0.470
110
27
7310C
74.9
50.9
5600
7500
1.080
110
27
7310AC
71.9
48.5
5600
7500
1.080
110
27
7310B
68.1
48.0
5000
6700
1.100
130
31
7410C
119.3
81.0
4500
6000
2.250
130
31
7410AC
115.8
78.3
4500
6000
2.250
130
31
7410B
105.3
71.2
4000
5500
2.100
55
80
13
7911C
19.1
17.8
7500
15000
0.183
80
13
7911AC
18.7
17.5
7500
15000
0.183
90
18
7011C
38.9
29.5
6000
8000
0.380
90
18
7011AC
35.5
26.5
6000
8000
0.382
100
21
7211C
53.2
39.9
5600
7000
0.610
100
21
7211AC
50.8
38.2
5600
7000
0.610
100
21
7211B
46.3
36.0
5300
7000
0.620
120
29
7311C
86.4
59.5
5000
6700
1.420
120
29
7311AC
83.4
58.0
5000
3700
1.420
120
29
7311B
82.2
56.2
4500
6300
1.400
140
33
7411C
125.3
87.0
4200
5600
2.750
140
33
7411AC
121.4
84.5
4200
5600
2.750
140
33
7411B
110.0
76.3
3800
5200
2.550
60
85
13
7912C
19.5
18.5
7000
14000
0.198
85
13
7912AC
19.0
18.0
7000
14000
0.198
95
18
7012C
40.9
33.1
5600
7500
0.400
95
18
7012AC
37.0
31.3
5600
7500
0.400
110
22
7212C
61.0
48.2
5300
7000
0.800
(mm)
Principal Dimensions
Designation
(KN)
Basic Load ratings
(rpm)
Limited Speed
(kg)
Weight

d
D
B
Dynamic
Static

Grease

Oil
60
110
22
7212AC
58.1
46.0
5300
7000
0.800
110
22
7212B
56.1
44.3
4800
6300
0.800
130
31
7312C
98.6
68.5
4800
6300
1.710
130
31
7312AC
95.2
67.2
4800
6300
1.710
130
31
7312B
91.5
65.4
4300
5600
1.750
150
35
7412C
136.3
98.2
3800
5200
3.400
150
35
7412AC
131.8
95.3
3800
5200
3.400
150
35
7412B
119.3
86.1
3500
4700
3.200
65
90
13
7913C
20.3
20.5
6500
13000
0.212
90
13
7913AC
19.4
20.0
6500
13000
0.212
100
18
7013C
40.1
35.3
5300
7000
0.430
100
18
7013AC
38.0
33.6
5300
7000
0.430
120
23
7213C
69.8
54.4
4800
6300
1.000
120
23
7213AC
66.6
52.1
4800
6300
1.000
120
23
7213B
65.7
50.2
4300
6000
1.000
140
33
7313C
113.1
79.6
4300
5600
2.230
140
33
7313AC
109.3
78.3
4300
5600
2.230
140
33
7313B
102.3
75.3
3800
5300
2.150
160
37
7413C
147.4
110.2
3400
4800
4.200
160
37
7413AC
142.5
106.7
3400
4800
4.200
160
37
7413B
128.7
96.4
3200
4500
4.000
70
100
16
7914C
28.1
27.5
6300
12000
0.342
100
16
7914AC
27.1
26.3
6300
12000
0.342
110
20
7014C
48.3
43.1
5000
6700
0.600
110
20
7014AC
45.8
40.9
5000
6700
0.600
125
24
7214C
72.8
59.7
4500
5800
1.100
125
24
7214AC
69.4
57.0
4500
5800
1.100
125
24
7214B
70.4
56.3
4000
5600
1.100
150
35
7314C
126.0
91.6
4000
5300
2.670
150
35
7314AC
118.8
88.2
4000
5300
2.670
150
35
7314B
114.6
85.9
3600
5000
2.650
180
42
7414C
160.4
126.6
3200
4500
5.800
180
42
7414AC
154.6
122.0
3200
4500
5.800
180
42
7414B
138.7
109.6
3000
4200
5.550
(mm)
Principal Dimensions

Designation
(KN)
Basic Load ratings
(rpm)
Limited Speed
(kg)
Weight

d
D
B

Dynamic
Static

Grease
Oil
75
105
16
7915C
28.6
29.2
6000
10000
0.036
105
16
7915AC
27.0
27.7
6000
10000
0.036
115
20
7015C
49.6
45.9
4800
6300
0.630
115
20
7015AC
47.5
43.3
4800
6300
0.630
130
25
7215C
79.2
65.6
4300
5600
1.200
130
25
7215AC
75.3
62.8
4300
5600
1.200
130
25
7215B
68.6
58.2
3800
5300
1.200
160
37
7315C
140.7
103.9
3800
5000
3.100
160
37
7315AC
134.4
99.8
3800
5000
3.100
160
37
7315B
127.7
95.4
3400
4800
3.200
190
45
7415C
171.4
138.9
3000
4200
7.000
190
45
7415AC
165.2
133.5
3000
4200
7.000
190
45
7415B
148.4
120.4
2800
4000
6.800
80
110
16
7916C
29.0
30.5
5500
10000
0.381
110
16
7916AC
27.5
29.0
5500
10000
0.381
125
22
7016C
58.9
54.7
4500
6000
0.850
125
22
7016AC
57.5
51.0
4500
6000
0.850
140
26
7216C
92.5
66.2
4000
5300
1.450
140
26
7216AC
91.3
65.1
4000
5300
1.450
140
26
7216B
78.7
65.7
4000
5300
1.450
170
39
7316C
156.1
112.2
3600
4800
3.600
170
39
7316AC
149.5
107.7
3600
4800
3.600
170
39
7316B
141.4
107.9
3200
4800
3.800
200
48
7416C
183.2
152.9
2800
4000
7.400
200
48
7416AC
176.5
147.2
2800
4000
7.400
200
48
7416B
158.4
132.4
2600
3700
7.180
85
120
18
7917C
39.0
40.5
5000
9000
0.542
120
18
7917AC
38.0
39.1
5000
9000
0.542
130
22
7017C
58.1
55.9
4300
5600
0.890
130
22
7017AC
55.0
52.8
4300
5600
0.890
150
28
7217C
99.7
84.6
3800
5000
1.800
150
28
7217AC
94.9
80.8
3800
5000
1.800
150
28
7217B
83.2
74.1
3600
5000
1.850
180
41
7317C
160.7
130.5
3400
4500
4.380
180
41
7317AC
154.3
122.3
3400
4500
4.380
180
41
7317B
155.8
120.9
3000
4000
4.450
210
52
7417C
195.1
167.6
2600
3700
9.600
210
52
7417AC
188.0
161.5
2600
3700
9.600
210
52
7417B
168.6
145.0
2400
3400
9.300
(mm)
Principal Dimensions

Designation
(KN)
Basic Load ratings
(rpm)
Limited Speed
(kg)
Weight

d
D
B
Dynamic

Static

Grease

Oil
90
125
18
7918C
41.2
46.0
5000
8500
0.560
125
18
7918AC
39.8
44.5
5000
8500
0.560
140
24
7018C
71.7
68.7
4000
5300
1.150
140
24
7018AC
75.0
62.8
4000
5300
1.150
160
30
7218C
128.0
111.7
3600
4800
2.250
160
30
7218AC
122.0
106.5
3600
4800
2.250
160
30
7218B
107.6
92.4
3200
4300
2.300
190
43
7318C
184.9
159.9
3200
4300
5.600
190
43
7318AC
177.6
153.5
3200
4300
5.600
190
43
7318B
157.9
136.9
3000
4000
5.300
225
54
7418C
208.0
184.2
2400
3400
11.200
225
54
7418AC
200.3
178.1
2400
3400
11.200
225
54
7418B
179.1
159.2
2300
3200
10.800
95
130
18
7919C
42.5
48.0
4500
8500
0.604
130
18
7919AC
40.0
45.5
4500
8500
0.604
145
24
7019C
73.5
73.1
3800
5000
1.200
145
24
7019AC
69.8
69.1
3800
5000
1.200
170
32
7219C
134.6
112.2
3400
4500
2.700
170
32
7219AC
128.4
107.8
3400
4500
2.700
170
32
7219B
121.4
106.7
3000
4000
2.700
200
45
7319C
201.1
179.8
3200
4200
6.600
200
45
7319AC
193.3
172.6
3200
4200
6.600
200
45
7319B
172.0
154.1
2800
4000
6.400
100
140
20
7920C
48.5
52.0
4300
8200
0.808
140
20
7920AC
46.4
50.0
4300
8200
0.808
150
24
7020C
74.4
72.5
3800
5000
1.250
150
24
7020AC
69.0
69.7
3800
5000
1.250
180
34
7220C
149.1
125.4
3200
4300
3.250
180
34
7220AC
142.3
120.6
3200
4300
3.250
180
34
7220B
140.7
102.5
2800
3800
3.300
215
47
7320C
222.1
206.7
3000
4000
7.580
215
47
7320AC
213.5
198.6
3000
4000
7.580
215
47
7320B
190.0
177.3
2600
3800
7.290
105
145
20
7921C
51.0
57.0
4000
8000
0.830
145
20
7921AC
47.0
55.2
4000
8000
0.830
160
26
7021C
80.6
81.1
3600
4800
1.600
160
26
7021AC
80.9
72.2
3600
4800
1.600
190
36
7221C
166.6
138.6
3000
4000
3.850
190
36
7221AC
159.0
135.1
3000
4000
3.850
190
36
7221B
143.3
128.5
2800
3800
3.550
(mm)
Principal Dimensions

Designation
(KN)
Basic Load ratings
(rpm)
Limited Speed
(kg)
Weight
d
D
B

Dynamic

Static
Grease

Oil
105
225
49
7321C
235.8
225.6
2800
3800
8.850
225
49
7321AC
226.7
216.6
2800
3800
8.850
225
49
7321B
201.7
193.3
2400
3600
8.550
110
150
20
7922C
52.0
58.0
3800
7500
0.880
150
20
7922AC
49.7
55.3
3800
7500
0.880
170
28
7022C
101.4
100.3
3400
4600
1.950
170
28
7022AC
98.5
93.9
3400
4600
1.950
200
38
7222C
184.7
154.8
2800
3800
4.550
200
38
7222AC
176.3
151.2
2800
3800
4.550
200
38
7222B
153.8
144.3
2400
3400
4.350
240
50
7322C
263.2
261.9
2600
3600
10.500
240
50
7322AC
253.2
252.4
2600
3600
10.500
240
50
7322B
225.8
225.3
2200
3400
9.840
120
165
22
7924C
72.0
80.1
3600
7200
1.150
165
22
7924AC
68.4
77.6
3600
7200
1.150
180
28
7024C
108.6
110.7
2800
3800
2.100
180
28
7024AC
103.5
104.5
2800
3800
2.100
215
40
7224C
203.1
178.4
2400
3400
5.400
215
40
7224AC
193.6
170.9
2400
3400
5.400
215
40
7224B
165.4
161.4
2200
3200
5.200
130
180
24
7926C
77.5
90.1
3400
7000
1.540
180
24
7926AC
73.4
88.1
3400
7000
1.540
200
33
7026C
>> 返回